Safe at Home? Quilt Project 2021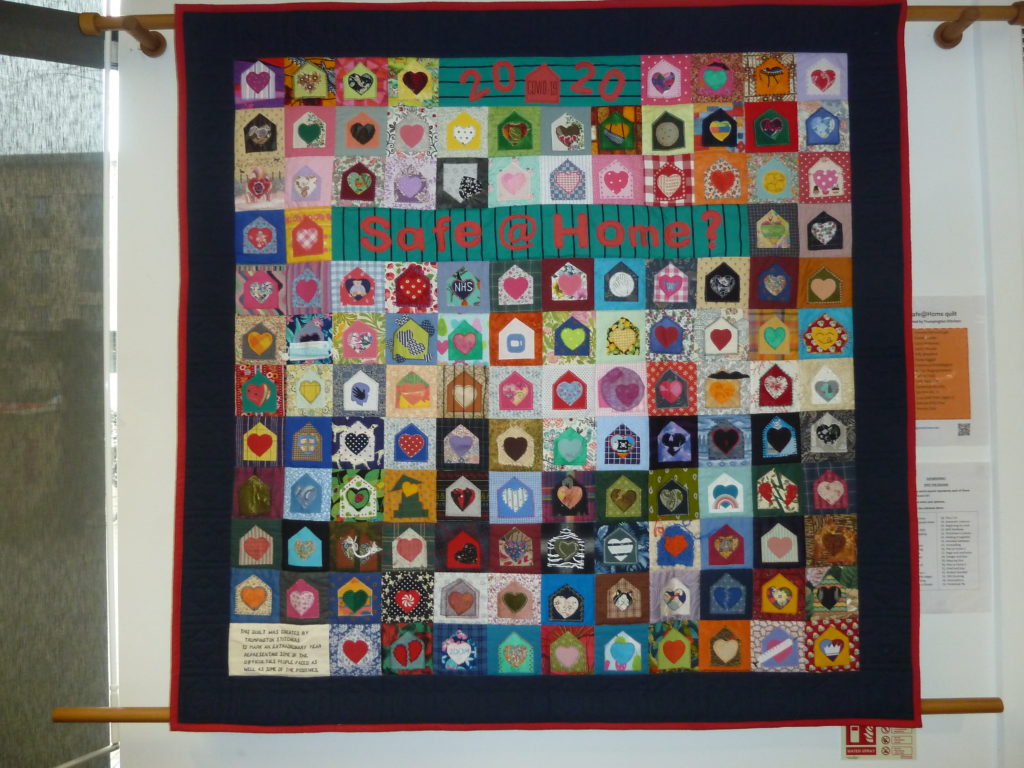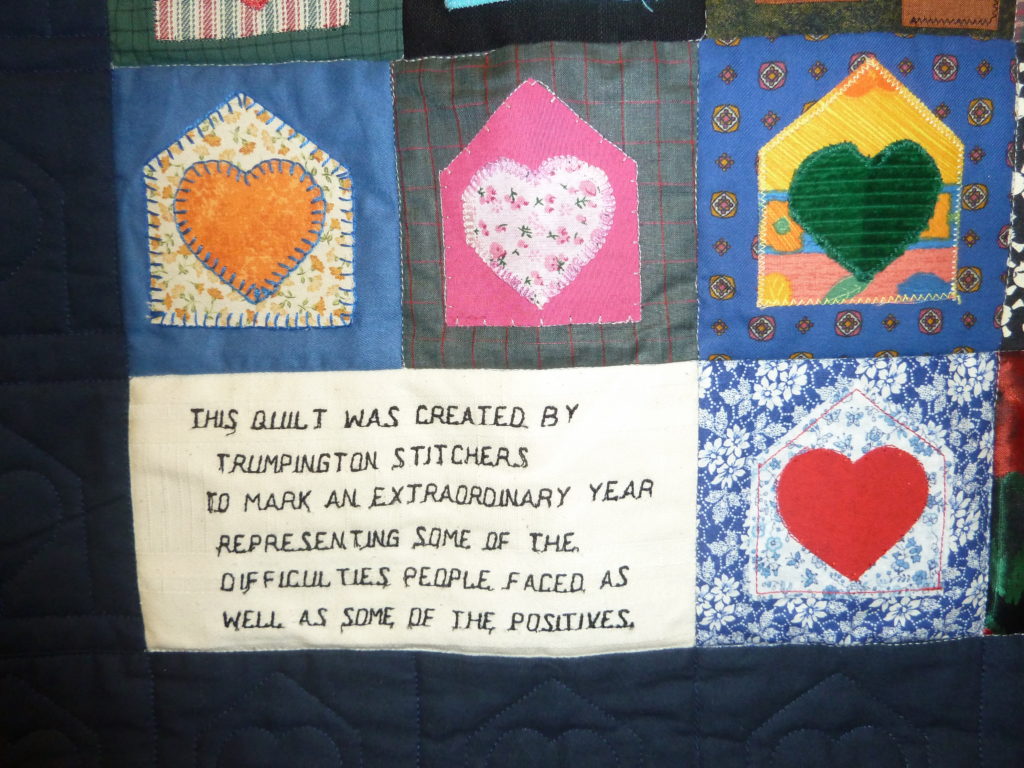 We received 200 squares for our quilt, so we had enough to make a second smaller one (below) to be used for display at Stitchers' stalls and as a teaching aid. We made sure we used every square we had been given!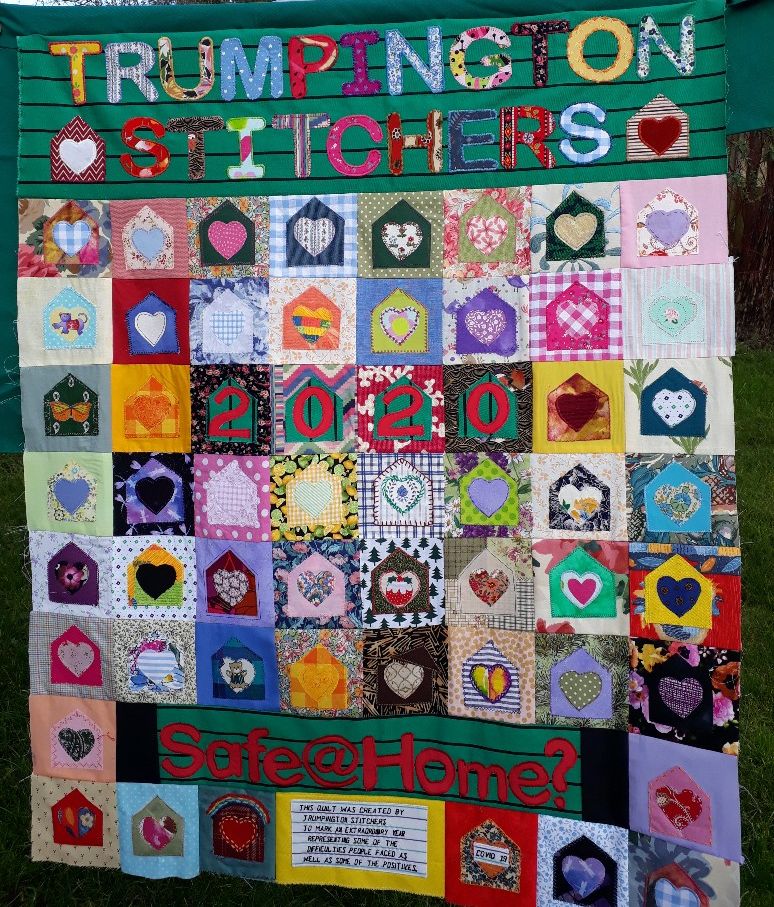 This  lovely winter project  to mark our first year of Covid gave us an opportunity to come together on a shared project during difficult times.
As a result It will consist of a wall hanging made from squares that can be stitched individually at home then brought together to be joined. It will hang in the cafe area at Clay Farm Centre.
Grateful thanks for permission to use the original design by Jane Charles of Wolverton Old School
An example of some squares is shown below. These can also be used to make bags, table runners or small wall hangings. 
Details of the project and how the squares were made
The squares need only the most basic of sewing skills; if you can only do running stitch that will be enough, or you can use your sewing machine.
If you would like to join in with the project and/or make some squares for yourself, you can find the downloadable templates and instructions here.
We can supply all the materials as a pack if needed, or you can use your own. Our deadline for receiving completed squares is January 10th 2021.
 THE "SAFE AT HOME?" QUILT PROJECT

Trumpington Stitchers want to work on something this winter that we can do together whilst apart, to benefit our community and to mark a year of living with COVID 19
Our quilted wall hanging will be hung as a piece of public art in the cafe area at Clay Farm Centre.  It will be made up of a total of 144 squares and will measure approximately 125cm square.
This is suitable for anyone from novice stitchers whose only skill is running stitch to those who love to play with their sewing machine.
The quilt will consist of 10cm squares holding an appliquéd home and a heart, to illustrate our theme of "Safe at Home?".  Each square can be in whatever material is available, and it can be hand stitched or machined in whatever way you like.
Some squares will represent the difficulties that many have faced this year, with life being turned on its head, grief and bereavements and not feeling safe. Hence the question mark in the title. These "exceptional"squares will be created by the design team for the quilt but if you feel you would especially like to contribute to this aspect, please let us know.
Materials required

You will need:
3 different small pieces of fabric – medium weight fabric such as polycotton works best
Bondaweb.
Threads.
IF YOU NEED MATERIALS – we can make up a pack for you. Just contact Carol Holloway on 01223 842427 or email carolholloway1@hotmail.com
NOTE about printing the Templates provided:
 print on the Full Page setting not the Fit to Size setting
There is a  5 cm line at the bottom left of the page so that you can measure and ensure you have printed to the correct size.
Instructions for making your square
Step 1:
Using the templates provided, trace around the house and heart shapes onto the right side (dull smooth side) of a piece of Bondaweb.  Also cut a square of fabric that is 12cms (this allows 1cm seam allowance for joining together with other squares).
Step 2:
Cut out the Bondaweb shapes leaving a small margin around them (this means the glue will adhere to the fabric at the edge of the shape when it is cut, preventing fraying).
Step 3:
Place the Bondaweb pieces with the rough shiny side down (this is the glue side) on the wrong side of the fabric and press firmly for 30 seconds with a hot iron. It should be firmly stuck down when you lift the iron.
TIP: To avoid all risk of getting Bondaweb on your iron or board, it is always best practice to sandwich your fabric+Bondaweb pieces between two layers of baking/greaseproof paper.
Step 4:
Let it cool, cut out the shapes and then peel off the backing.
TIP:  if it won't easily peel off, use a pin to tear the Bondaweb to get it started.
Step 5:
Place the house, Bondaweb side down, in the centre of the square on the right side of the fabric and press it on.  Then place the heart in the centre of the house and press.
It is important that the house is in the centre of the square, otherwise this will look very messy when joined up with other squares, so do please measure carefully and place the apex of the roof on the centre line of your square and 2 cm from the top of the square.
To get the heart as centred as possible, use a ruler to line up the apex of the roof with the indent and point of the heart.
Step 6:Use whatever stitching you like to secure the two shapes – simple running stitch is fine, or you can use any other machine or handstitch you like. It is best not to add too much embellishment as this might detract from the impact of the simple shapes.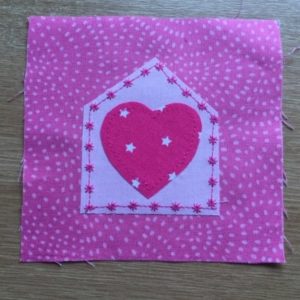 EXAMPLE 1                                          EXAMPLE 2                              EXAMPLE
 
 

EXAMPLES: Running stitch is used around the heart and blanket stitch around the house on example1, some fancy machine stitching on example 2, and plain plus zig zag machine stitching on example 3.
IF YOU DECIDE TO MAKE SEVERAL SQUARES, PLEASE DO NOT MAKE MORE THAN 2 DUPLICATES. WE WANT AS MUCH VARIETY AS POSSIBLE.  Use of the same fabric for different shapes and combinations is OK in moderation.
WHEN COMPLETED, Please post or deliver to Carol Holloway at 8 Sefton Close CB2 9HY, with your name and contact details attached. These will be kept on a database for the purpose of this project only. Provision of your details is your permission for them to be kept in this way.
THE DEADLINE IS 10th  January 2021
We will construct the quilt to unveil on March 23rd in the Clay Farm Community Centre cafe, marking the anniversary of the first day of Lockdown.