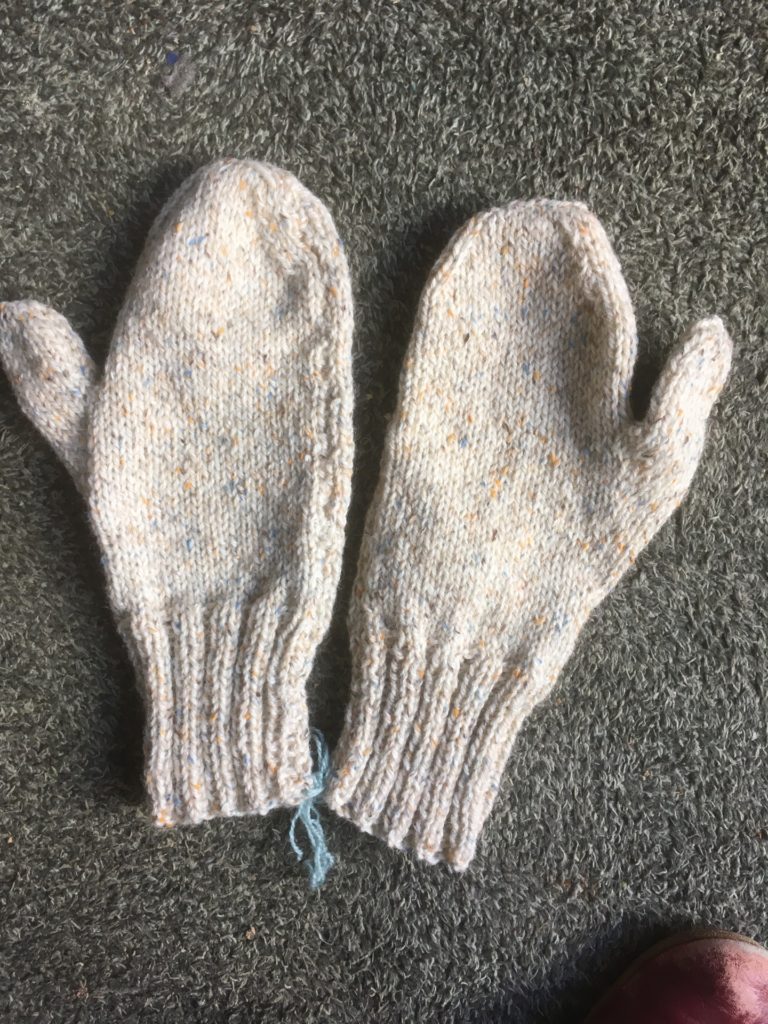 Knitted Mittens
This pattern is very adaptable. If using chunky wool and 4.mm needles, the result will be a large adult size. Double knitting and 3mm will make a medium adult size. Using smaller needles to keep the knitting tight gives extra warmth.
Cast on 42 stitches and knit 20 rows in k2 p2 rib
(you can make stripes in the ribbed section by knitting pairs of rows in different colours)
Knit 10 rows stocking stitch.
Thumb gusset
Place markers (if used) at the 20th and 23rd stitches
Knit 20, increase1 by lifting thread between sts. and knit into back of it. K2, increase as before, k20 [42 sts]
Next row and all even rows purl.
K20, increase 1. knit 4, increase 1, k20 [44sts]
Continue until there are 14 stitches between markers. [54sts] ending with a purl row
Make thumb
Knit 34st. turn work, cast on 1st. for base of thumb
Purl 15sts, turn, cast on 1st.Turn
Continue in stocking stitch on these 16sts. for 10 rows
Decrease for top of thumb
K1, k2tog. 7 times k1. Purl 1 row. Next row k1 k2tog. 3 times. 6sts. remain. Break yarn thread through sts. and fasten off
With right side of work facing rejoin yarn.
Knit across to thumb, pickup cast on sts. at base of thumb k20. [42sts.]
Continue in stocking stitch on these 42sts. until work measures 6 ins from top of rib.
Shape top
K2. k2tog through back of loop, k13, k2tog, k4, k2tog tbl. K13, k2tog. K2
Next and alternate rows purl.
Decrease in the same way on every knit row until there are 5sts between decreases total [22st] ending with knit row
P2 tog. P19 P2tog. Cast off or graft together to finish.
Sew side seams to complete. Repeat for second mitten